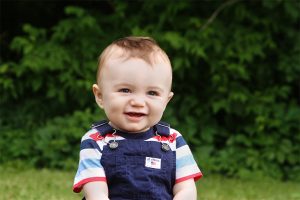 If you are the parent of an adopted child, then you might want to make sure your child's pediatrician understands the complexities of adoption or has had experience working with adopted children before. While this is preferred, it is not always possible, so it is your responsibility to find the best way to communicate to your pediatrician your child's needs and any of your own concerns. 

Your first opportunity to talk about adoption with the pediatrician is by filling out the medical paperwork. You will most likely notice there is no section on the paperwork that indicates whether your child is adopted or not. Make a note of their adoption on the paperwork, and then let the staff know when you hand the forms in that you have made a note about adoption on the paperwork, but including a checkbox for adoption on future forms would be helpful for your family and future adoptive families, as well as normalize it and make them feel more included. If this exchange is done in a friendly and open manner, it is likely the staff will be more receptive. 
Your child's medical history is complicated with adoption. You may have access to a lot of information or you may have none. It is crucial that you be honest. Give all the information you have and point out what you may be missing or what may be inaccurate. No matter how much medical history you have for your child, you may want to request a comprehensive medical evaluation every few years. It is also important that you make sure the doctor has the birth mother's pregnancy records because it can help them understand your child's health and give them a good baseline to start with. 
If your pediatrician is not experienced with adoption, express any of your concerns about adoption affecting your child's mental health, such as identity issues and feelings of loss. Some mental health issues can be misdiagnosed because they stem from a history of adoption. 
If you are working on normalizing adoption in your home, make sure the pediatrician knows that they need to be open and transparent on the subject of adoption because it is important to your family that it is normalized for your child and you want your child feeling comfortable talking about the subject of their adoption with their doctor.
Lastly, if you want your child's pediatrician to use positive adoption language, then model it. Avoid using terms like "give up" or "put up" for adoption, and say your child was "placed" for adoption because their birth parents loved them and felt it was best for them. If the pediatrician or other staff use outdated language, you can gently correct them by offering alternative words. 
While it may not be possible for you to find a pediatrician that has experience working with adopted children and understands the different considerations involved in working with an adopted child, you can still find a good pediatrician and communicate how you would like them to treat your child.