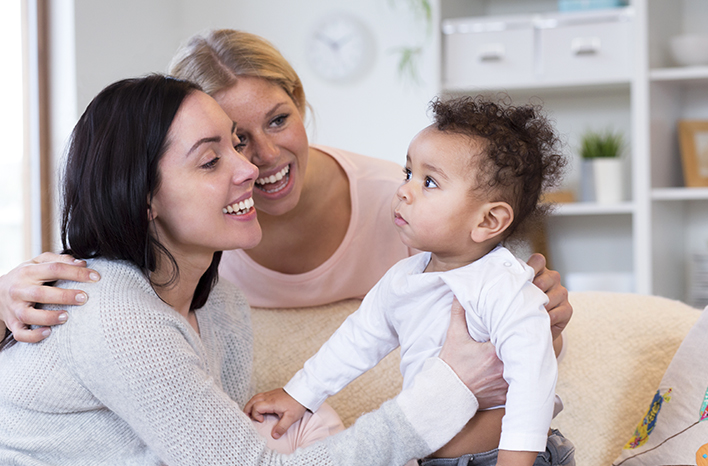 Angel Adoption is a place where birthmothers and adoptive parents have the freedom to make private and personal arrangements for the care of their children. We embrace and respect each client's individuality, beliefs, religion, ethnicity, nationality, marital status, and sexual orientation. In that spirit, we are proud to fully support gay and lesbian adoption!
Here are the answers to a few common questions about the gay and lesbian adoption process.
What constitutes gay and lesbian adoption?
Gay and lesbian adoption is the adoption of children by gay or lesbian people. This may be in the form of a joint adoption by a same-sex couple, adoption by one partner of a same-sex couple of the other's child, or adoption by a single gay or lesbian person.
Do birthmothers choose gay and lesbian adoptive families?
Yes! In our experience, most birthmothers are open to exploring all family types when selecting the adoptive family for their babies. Our expansive network gives us the flexibility to produce a match that satisfies both the preferences of our adoptive parents and our birthmothers.
Do gay and lesbian adoptive parents wait longer to adopt a baby than traditional parents?
Prospective gay and lesbian adoptive parents may feel they will have a harder time adopting, but that's not necessarily true. The time it takes to adopt depends on a number of other factors, including pre-adoption classes, your home study, and how long it takes to find the right child for your family.
What challenges do children of same-sex families face?
Recent studies show that children growing up with gay or lesbian parents are no different from children raised by traditional, opposite-sex parents. Having gay or lesbian parents could be somewhat difficult when adopting an older child, but if you adopt a newborn baby, he or she will grow up having same-sex parents and it will be totally normal for them.
Gay and lesbian people have been facing prejudice and discrimination all their lives, so you might already be aware of the sort of difficulties your child may face growing up in a non-traditional family. Most see it as an opportunity for their child to grow and develop as a person. You should be prepared for some rough spots, but the same is true for all adoptive parents, so don't let that deter you from your dream of adopting a baby.
What are the laws regarding gay and lesbian adoption?
We work with gay and lesbian adoptive parents throughout the United States; however, adoption laws and processes vary from state to state. If you reside in a state that prohibits gay and lesbian adoption, it is still extremely likely you will be able to adopt a child. The vast majority of states currently permit single parent and second parent adoptions regardless of sexual orientation. In addition, the U.S. Constitution requires that adoptions finalized in one state must be legally recognized by all other states.
When you reach the point in the adoption process where you need an attorney, we can refer you to someone that is experienced in working with gay and lesbian adoptive parents. In fact, we have a whole network of adoption attorneys and professionals across the country ready to assist you. If you have questions or concerns about the gay and lesbian adoption process, interstate recognition of adoptions, or the adoption laws in your state, please don't hesitate to give us a call at 1-877-264-3555.
More Non-traditional Adoptive Families