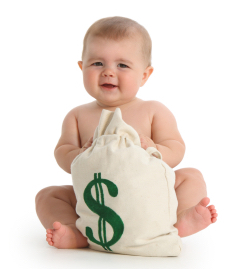 Financial stress can affect nearly any aspect of your life. When you decide you want to adopt, financial hurdles shouldn't stand in your way. Usually, adoption costs vary greatly depending on factors like legal requirements, home study fees, state laws, birthmother expenses, and many other fees. Before applying to adopt a baby, it's always recommended to get your finances in order. But, if you want to welcome a new member into your family, the good news is there are many adoption financial assistance options for you to explore and take advantage of.
Adoption Financial Assistance Resources
Adoption Tax Credit
Depending on your gross income, you may qualify for all or some of the Adoption Tax Credit. For more information, we recommend contacting your tax advisor. One of the most important things to remember when utilizing the Adoption Tax Credit is to keep careful and detailed records of all your legitimate adoption-related expenses.
Employee Benefits
Many employers provide benefits that can prove to be beneficial to adoptive parents, including parental leave time, reimbursements of adoption expenses, assistance with referral services, and more. If you want to learn everything about your options, contact your human resource department for details. If they don't offer any benefits, be persistent and your inquiry may lead them to reconsider their policies.
Loans
Your adoptive financial assistance options can also include loans for adoption expenses. As an adoptive parent, you can pursue loans through some banks, life insurance policies, and credit unions. When you use loans for the adoption, there's a possibility to pay them off with employee reimbursements or with tax credit monies.
Grants
Many adoption foundations offer grants as an adoption financial assistance option. In order to apply for a grant, parents need to finish a home study and fill out application forms. Some private grants are reserved for families that are socioeconomically challenged or for families who are adopting children with special needs.
Military Adoption Benefits
This form of adoption financial assistance is available for active-duty personnel. Reimbursement from the military is available for both domestic and international adoptions. As long as the adoption is made throughout a private non-profit adoption professional or a state adoption professional, you'll get a reimbursement once the adoption process is finalized; be sure to check with your local military branch office to ensure you are eligible for benefits or contact the National Military Family Association.
For more detailed information about the cost of adoption and adoption financial assistance options, visit our Cost of Adoption resource page.