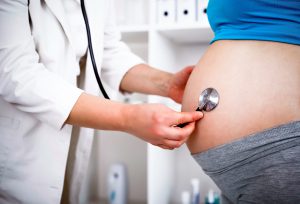 When you're planning your birth plan, you want everything to go smoothly. In addition to having material things for your plan, you also want to plan for the unexpected that could occur during your birthing process. That means understanding the difference between going the natural route and seeking an epidural.

Many women begin their birthing journey by choosing a natural option. They want their child to enter this world in a holistic and safe way. However, any mother will tell you that birthing pains are no joke, and epidurals are a medically safe option for those who wish to mitigate that pain.
If you're expecting and want to plan your labor, check out our natural versus epidural comparison.
Going the Natural Route
There is a lot of strength and beauty in choosing natural labor. Natural labor means the expecting mother will reject all forms of medication and push their child out without the numbing effect of an epidural.
While this option is considered ideal by some, it's often not practical when the pain is insurmountable. Sometimes, expectant mothers wait too long to receive their epidural. When this happens, they have no choice but to take the natural route.
If you're dead-set on choosing an all natural route, you may want to look into home, water, or holistic birth options. This is an excellent choice for mothers who want to have a spiritual experience with a like-minded team of medical professionals.
Preparing your mind for this event is key to enduring the pain. Should you go the natural route, it's best to gather as much coaching and information as you can ahead of time to prepare yourself.
Going the Epidural Route
The epidural is like a sanctuary for mothers in pain during labor. Administered by a professional, this numbing medication is inserted by a needle into the patients back. Within minutes, the medication kicks in, thus creating a numbing effect. This helps the mother push without feeling the pain of contractions.
Getting an epidural has its drawbacks. The mother must remain completely still while the large needle is inserted in their back. Should they move, they could risk paralyzing the lower half of their body. In addition, there is a specific span of time that is open to getting an epidural. Unfortunately, once you've missed this period, you must endure the pain and undergo the natural route. Because of this gap in time, it's best to decide before going into labor if you want this option or not.
Although it's wise to plan for your labor, you never truly know what could happen during your birthing process. Each woman has the responsibility to choose the best plan that's right for her and the baby's health. Therefore, it's best to do a surplus of research prior to giving birth so you can have a well-rounded idea of the best options for you and your family.