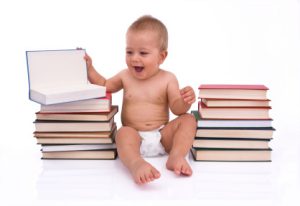 Whether you want to present the adoption process to a child who has been adopted, or you just want to help a child understand their adopted family members or friends, adoption books will help children realize the unique situation that adoption brings.
Reading books about adoption can also help prepare you for your adoption and for parenting your adopted child. Here are some books for children to understand the adoption process as we know it: the wonderful journey of creating a family!
Sweet Moon Baby: An Adoption Tale
This is a truly poetic book about a child's journey from China all the way to the United States. The baby is protected by animals, such as a peacock and a monkey, throughout her journey. It portrays the baby's birth parents as well as the adoptive parents. This is a beautiful story that can teach your child about the true meaning of adoption.
In very simple and clear language, this book tells a story about a family meeting their child for the first time. Both the type of adoption and gender are neutral so this book is perfect for reading out loud. You can even personalize the story and add some things you think are important for your little one.
This is a simple story about those things every adoptive family is concerned about. Celia is a five-year-old girl who knows she's adopted, but she reacts with confusion and insecurity when she finds out this information. Her parents deal with her question in an honest and loving way to help her understand the adoption.
Beginnings: How Families Come to Be
Sketches in this book illustrate various ways to enlarge a family. An adoption is one of those ways, but it's also explained with all its different types and options, so a young child can understand it better.
Do I Have a Daddy?: A Story About a Single-Parent Child
This is an excellent book for single adoptive parents. In this book, a single mother explains to her son Erik what happened when he asked her: "Where is my Daddy?" The second half of a book is a section for single parents.
This book celebrates transracial adoptive families by a sweet community in the book including a hippo, a bird, an alligator, and a pig. Choco wants to find a mother, but along the way he finds out how his mother doesn't have to look like him. Choco figures out how it's only important for his mother to take care of him.
Tell Me Again About the Night I Was Born
We love this story by actress Jamie Lee Curtis, who is an adoptive mother herself. It tells the story of a little girl who knows her adoption story by heart, but cherishes it so much that she still longs to hear it told to her. A perfect way to introduce a young child to the concept of adoption, this book joyfully captures the spirit of domestic adoption.