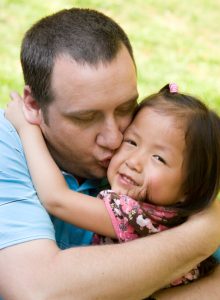 Whether you have recently adopted a newborn baby or are waiting to adopt, you should prepare in advance for talking to them about adoption. Children are smart, and they may ask you a variety of questions about their birthparents, as well as adoption itself, so it is better to feel prepared before the big talk. Here are some tips that you may find helpful when it comes to talking about adoption!
Open Communication
This is the key to any successful adoption talk. It is normal to have more than one adoption talk with your children, since they will be discovering the world and will always have additional questions. Mention the birth parents when talking about adoption, regardless of your child's age. Always smile when you talk about them, since that will create an important emotional undertone that will have a positive influence on your child. Keep your facial expressions and tone welcoming to show your child that you are not upset when talking about adoption.
Talk About Adoption From the Beginning
If you have adopted a newborn baby, this idea may seem odd, and you may think it is early to start talking about adoption. But it is not, since regardless of his or her age, your child deserves to know everything about his or her adoption and birth parents. Use the word adoption regularly. Share your experience with your child by choosing adoption as a topic for your bedtime stories, or even make up your own. The stories will help to introduce the concept of adoption to your child. Just dumping the information on your child is not the right way to do it, so make sure to adjust the subject of adoption to each stage of your child's cognitive development.
Help Your Child Express Feelings
Some children can benefit from and find the right words for their feelings by drawing pictures of their adoption story, while others can do the same by writing in a journal. When you talk to your child, always ask about his or her feelings to make it easier for them to express them more honestly. Remember to answer your child's questions as honestly as you can and don't be overly emotional about the story, but present adoption as a normal process of forming a loving family.
Don't Assume your Child is not Thinking about Adoption
Even if you have talked about adoption during the early stages of your child's life, don't assume that that is enough. If your child is older, he or she is probably beginning to understand adoption more fully and deeply. This is the time to encourage your child to talk openly and express his or her feelings and opinions about adoption. Even if your child is refusing the adoption talk, encourage him or her to write you a letter, and eventually that barrier will be passed and your child will feel more comfortable conversing with you.