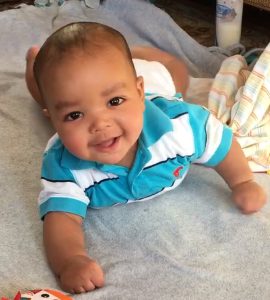 Plenty of people of all walks of life choose to adopt children every year. Whether they adopt at birth or a young child, whether they choose to have solely adopted children or biological children too, these families have shown that adoption is a meaningful and rewarding way to start or expand a family. Many celebrities have chosen to adopt children, and we've compiled this list to share their experiences and journeys for those of you who want to learn more about the incredible world of adoption.

Viola Davis
Award-winning actress Viola Davis is one of many famous parents who chose to adopt. She married fellow actor Julius Tennon in 2003 and became the stepmother to his two children. In 2011, the couple expanded their family, and adopted their new daughter Genesis at birth.
Davis offered up some inspiring and heartwarming words of the adoption of her daughter Genesis, saying, "There are so many ways to mother rather than to carry a child in your body. So many children need parents, and so many of us want to mother. Know that you will experience motherhood to the fullest extent."
Madonna
Madonna has no shortage of mouths to feed when it comes to dinnertime, as mother to four adopted children and two biological. Her adopted children, David Banda, Mercy James and twins Stella and Estere, are all from Malawi. 
Madonna's heart and sense of empathy drove her to adopt, saying, "Sometimes I would just close my eyes and just think, 'Why isn't my kitchen filled with dancing children?' There's so many children that need a home. I thought, 'What am I waiting for? Just do it.'"
Lionel Richie
Beloved singer Lionel Richie's adoption journey was one that didn't go the way most people plan theirs. That's the beautiful thing about adoption, though — as long as you love your children, then it doesn't matter how it happened.
Richie took in Nicole, daughter of a friend, when she was four. Nicole's parents were undergoing tough times. After a while though, Nicole became a permanent part of the Richie family, and was officially adopted when she was nine. Richie also has two biological children, Sofia and Miles Brockman Richie.
Hugh Jackman
When he's not playing Wolverine or the Greatest Showman on the screen for all the world to enjoy, Hugh Jackman will return home to his wife and children, which are adopted. Jackman's adoption partially came out of him and his wife Deborra Lee-Furness' struggles to get pregnant, which is common among adoptive parents. Jackman and his wife have embraced their children with open arms and have even advocated for adoption reform, wanting to make the adoption process easier for parents in Australia to navigate.
Sandra Bullock
While those of you who watched The Blind Side have seen Sandra Bullock portray an adoptive mother on the silver screen, it turns out that Ms. Bullock has some adopted children in her real life. During her divorce from entrepreneur Jesse James, Bullock chose to adopt her son Louis. Five years later, she adopted her daughter Laila. She adopted both Louis and Laila from the Louisiana foster care system.
Bullock is a great example of a successful single parent who has provided a loving and nurturing environment for her children. She kept the adoption of both of her children a secret from the media and outside world for a time to give her children a normal upbringing away from the paparazzi. She describes her family as "blended and diverse, nutty, and loving and understanding."