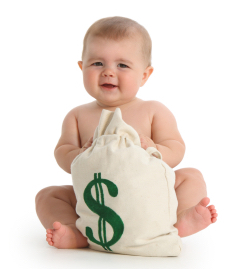 If you've recently started looking to adopt, then concern about adoption costs may be occupying the forefront of your mind. The total cost of adopting a child in the United States can fall anywhere between $25,000-$40,000, depending on your circumstances. This is no small amount, but fortunately, there are multiple ways to achieve your dream of adopting without taking on more debt. Below are a few methods you can use to financially prepare yourself for the cost of adopting a child.

Save Up
The most sure-fire way to come up with enough money to cover adoption fees is by incorporating your goal into your existing budget. By setting aside a small portion of your income each month, you'll be able to save up enough money to adopt much sooner than you might think, especially if you live in a dual-income household.
To do this, consider establishing a separate savings account specifically for adoption money. That way, you'll be less likely to spend the money by mistake or through impulse buying.
Furthermore, you may want to look into obtaining a high-yield savings account, as they offer significantly higher interest rates than standard savings accounts.
At the same time, you should also try to decrease your living expenses in reasonable ways. Keep a careful eye on your purchases, and do your best to only spend money when it's truly necessary.
Additionally, take good care of yourself, your family, and your possessions. Maintenance is nearly always cheaper than repair, regardless of whether the object in question is a car or a tooth.
Finally, shop around for less expensive alternatives whenever possible, including at grocery stores and with home, auto, and life insurance policies.
Look for Grants
Unfortunately, saving for adoption via budgeting can sometimes be difficult, especially for people with low incomes. If you're concerned about how long it might take to build up your savings account, you may want to consider applying for adoption grants. Hundreds of adoption grants are available online, and they can offer anywhere from $100 to $10,000 in financial assistance.
Some grants may have specific guidelines as to who may apply, but most are available to the general public. This means that you will almost certainly be able to find one that applies to your specific situation.
Work With Your Employer and Your Community
In addition to applying for grants, you may also want to speak with your employer to find out if they offer adoption-related benefits. For example, some employers may help cover specific fees, while others might reimburse you for certain costs after the fact. Regardless, it is definitely worth meeting with your company's Human Resource department to determine if options are available to you.
Finally, you should also consider reaching out to your community for assistance. People tend to be very generous when it comes to a personal cause such as adoption. By establishing a fundraiser on GoFundMe or a similar platform, you may be able to raise a significant amount of money.
Regardless of which paths you choose to follow, don't give up hope. The adoption journey may be a difficult one, but at the end of it, you will be able to permanently enhance the life of a child, and that is truly priceless.