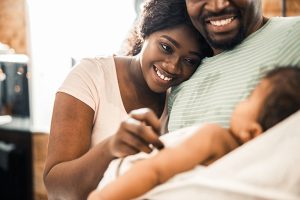 It's no secret that the adoption process can be a difficult and stressful journey. For this reason, many prospective adoptive families choose to work with an adoption service provider so they can get the expert support they need as they navigate the adoption process. Discover the benefits of working with an experienced adoption service provider that helps hopeful adoptive families connect with a prospective birthmother.

What is an adoption service provider? 
An adoption service provider is an organization or business that handles various aspects of the adoption process for prospective adoptive families and/or birthmothers. They are different from adoption agencies in that they usually offer only select services, which allows them to be more personalized and specialized. Working with one usually means you only pay for the services you need when you need them, which can make adoption more affordable.
What services do adoption service providers offer?
Adoption service providers offer various services to both prospective adoptive families and birthmothers. While they vary from provider to provider, common services offered include adoption marketing and advertising, home studies, professional referrals, support and guidance, coordinating connections with prospective birthmothers, and more.
At Angel Adoption, we offer prospective adoptive families two full years of marketing and advertising to potential birthmothers to increase their chances of a connection. We also refer families to our network of trusted and experienced adoption attorneys and social workers. Angel Adoption also helps facilitate connections with potential birthmothers, including coordinating communication and providing questions to ask. Last but not least, we offer guidance, support, and encouragement through all stages of the adoption process. 
Wealth of Knowledge
A top benefit of working with an adoption service provider is their wealth of knowledge on the specific services they provide. As you go through the adoption process, their knowledge and experience will be an indispensable resource for you and your family. 
When adopting a newborn, there is a lot to learn from the types of adoption, adoption costs, creating an appealing adoption profile, bonding with your adopted baby, and more. In addition to working with knowledgeable staff, your adoption service provider will have an abundance of resources available for you so you can continue to learn about adoption at your leisure.
Specific Focus
Various adoption professionals focus on different types of adoption, such as domestic adoption, international adoption, LGBTQIA+ adoption, infant adoption, and more. Angel Adoption specifically focuses on domestic adoption of newborns and young children.
Working with an adoption service provider who handles the type of adoption you are seeking is important. For example, if you are seeking to adopt domestically, you would not want to pursue services from an adoption provider that focuses on international adoption. Working with the right provider allows you to get the specific service, knowledge, and support you need for your unique adoption journey.
Connecting with a Birthmother
An experienced adoption service provider can help you make a meaningful connection with a perspective birthmother. This is usually done by assisting prospective adoptive parents in creating appealing family profiles that make their personalities shine in hopes of sparking a connection. 
At Angel Adoption, some of the methods we use to create exposure for waiting families include search engine optimization, social media marketing, pay-per-click advertising, professional networking, and more. All of these activities create an environment where it is easier for birthmothers to find prospective adoptive families they feel could potentially be a good fit for their baby.
Personalized Services
An important benefit of working with an experienced adoption service provider is that they are able to offer highly personalized services to prospective adoptive families. Every adoption is unique and so is every family, which is why having uniquely tailored services is beneficial for successfully connecting with a birthmother, finalizing the adoption, and creating the family you have been dreaming of. 
Adoption is an emotional time for both prospective adoptive families and birthmothers. For this reason, we believe it is important to offer them personalized, compassionate, and reliable services as they move through this journey. For prospective adoptive families, an adoption service provider that is small and focuses on personalized services can decrease the wait times that many experience at big adoption agencies. With an organization like Angel Adoption, you will never be just a number.