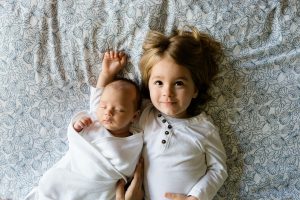 Most children who are placed for adoption desperately want to remain together with their sibling. Many agencies and social workers strive to place brothers and sisters with the same family. Unfortunately, that isn't always possible, as some adoptive parents find the burden of multiple children too great.

Statistics show that about twenty percent of all children placed for adoption have at least one sibling, most of them under the age of ten. Keeping kids together from birth has a lower risk of adoption disruptions and a higher chance of emotional stability for the children. Prospective parents should to be aware of the wonderful joys and difficult challenges when choosing to adopt siblings into their family.
Important Benefits of Adopting Siblings
Siblings who are adopted together have a familiarity with each other from birth. They can support one another in a way no other person could. There is a sense of security and attachment when everyone else is new in the household and neighborhood. When one sibling is sad or shy, the other can be encouraging and bold. This yin and yang can be a huge benefit to the children as they adjust and learn how they fit into their new family.
Challenges
Parents should realize that adopting siblings will take more time and energy. Each child will require individual attention and will have separate needs from their sibling. A brother may prefer arts and crafts while the sister may challenge a parent to present a hobby they enjoy. One sibling may be old enough to have experienced the loss of their birth parents while the other could have little to no memory of them at all. Because siblings have each other, it may take longer for them to open up to the parents and create attachment.
International Sibling Adoption
Siblings are more difficult for adoption agencies to place, a fact that remains the same for adopting siblings internationally. Each country has its own rules and fees. However, some of these regulations are more flexible, making international adoption more appealing to some parents. There are countries that have programs specifically designed to facilitate sibling adoptions. Parents should realize that there will be additional costs such as airfare, obtaining proper visas for children, and the choice of having medical examinations of each child's file. The adoption agency can help parents navigate these unfamiliar areas. Adopting siblings internationally can be a fulfilling and rewarding way to create a family.
Adopted children who are allowed to stay with their sibling are less likely to have behavioral issues and more likely to feel stable and reassured in their new home. Prospective parents can have an instant family, which will require more work than adopting one child, but will multiply the joys and successes of parenthood.