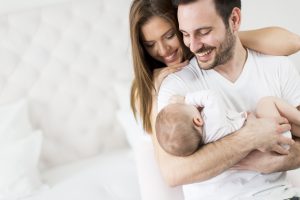 The way you talk about your child's adoption with them will naturally change as the child ages. As they grow older, they will be able to understand more of what you're telling them, but their emotions regarding the adoption may also change over time. Below, we discuss some of what you can expect in each stage of your child's development.

Toddler Years
Experts recommend beginning to talk to your child about their adoption as soon as possible — often as young as infancy. This not only normalizes the conversation for the child, it also gives the parents a chance to practice how they want to word things.
Chances are that your toddler will not fully understand what you mean when you discuss their adoption, but it will get the point across to them that it is okay to ask about and nothing to be ashamed of.
Early Childhood
As your child enters early school-age years, they will begin to understand more about what adoption means, at least on a personal level. They may not fully comprehend the legal side of things, but they will likely begin asking more questions about their adoption. They may question why they were adopted, ask more specific questions about their birth parents, or ask why they look different from their adoptive parents or siblings.
It is also important to note that this age is when children may begin struggling with self-esteem and a sense of abandonment due to their adoption. If this becomes an issue for your child, speaking with a therapist may be beneficial.
Adolescence
By the time your child reaches 12 or 13 years old, they will begin to understand the legal process of adoption, and be better able to process why people choose to place a child for adoption. However, this is also when children really begin developing a solid sense of identity, something that can be made more difficult with an adoption to contend with.
As your child works to figure out who they are, they may ask to meet their birth parents (if they don't already know them) or want to look more into their ethnic or genetic past. They may ask for more specific information regarding their adoption, which you should try to provide wherever possible in an attempt to keep your communication with them open and honest.
No matter what age your child is, honesty is the most important policy when it comes to talking about their adoption. Being willing to make this conversation an honest and ongoing on will make it easier for your child to process their adoption no matter their age.