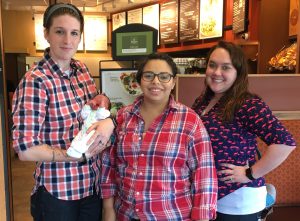 Open adoption is becoming increasingly common. Choosing this type of adoption has many benefits for everyone involved, but like any relationship, it requires conscious effort to be successful. There are different levels of openness in any open adoption, and it is up to the birthmother and the adoptive parents to set those boundaries for the benefit of the child. With a foundation of trust, respect, and communication, this can be an extremely rewarding experience.

Whether you are a birthmother or you are looking to adopt, there are some important points to remember in creating a healthy open adoption.
Find the Right Connection
Before the baby is born, adoptive parents and birthmothers should put a lot of thought into finding a suitable connection. It is ideal to have as much time as possible interacting so that everyone can better evaluate whether it feels like a good fit. Maybe everything seemed perfect on paper, but after the first meeting there were some concerns on either side. It's ok to change your mind at this stage. Both parties should remember that this is a lifelong commitment not just to the baby, but to each other. You have agreed that you want some form of open communication to continue, so it is important that you both have the same ideas on how that will be defined.
Communication is Key
Everyone needs to maintain open and honest communication. There is a great deal of trust involved in creating a successful open adoption, and trust cannot be established without a solid line of communication. Birthmothers and adoptive parents should be candid about their expectations, boundaries and desires so there is no room for major misunderstandings down the road. At the same time, there needs to be some degree of flexibility as everyone will need to make compromises at some point. Again, this is why communication is critical. If everyone understands and respects where the other party is coming from, it is exponentially easier to work together on reaching agreements.
Imagine You Are a Team
Though you are experiencing it from different perspectives, you are all going through the adoption process together. The most important element in any open adoption is the mutual love for the child. Adoptive parents and birthmothers want what is best for the baby, though at times they may have some different opinions on what that entails. That is perfectly ok, just as long as that solid communication has been established. You should aim for working together as a team. Keep in mind that everyone is rooting for the child's success above all else, so nurture your bond towards that common goal.
The Takeaway
There are many positive reasons to consider open adoption, but only if you can establish a healthy relationship. It can be a negative experience for everyone if proper care is not given to building a foundation of trust and respect. Take the time that you need before making this commitment. Once you are involved in an open adoption, treat it as you would any loving relationship. Practice constructive communication. Keep the welfare of the child at the forefront of your mind at all times.