dear expectant mother
We understand this is a difficult process and choice, and we want you to understand this type of commitment is not one we take lightly. Having a child to make our family complete would be a blessing, one that we will cherish with all our being.

We look forward to not only helping our child grow but for us to grow as well. When we are blessed with a child, we will make sure they are loved and cared for in the same way we love and care for each other and all the other members of our extended family. We look forward to having them put the star on the Christmas tree every year and going trick or treating in costume with our dog Snickers.

One characteristic we both believe in is service and giving back. Hillary, a Navy veteran, was vice president of a literacy nonprofit. Eric currently volunteers on the board for our local city council. Also, with both of us being college-educated professionals, we understand the importance of education but also how learning can be fun and encourage the inquisitive minds children have. We have both lived in Europe for a time and have a desire to introduce culture and diversity. We look forward to exploring the world, not only through local museums and books but actually introducing a child to language, art, history, and cultures.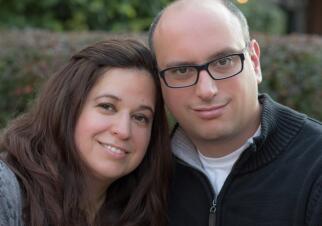 About Us
We have been married for over seven years and live in the suburbs of a large Midwestern city. Hillary's father lives with us, and we spend most of our holidays with extended family. Family is of the utmost importance to us and this includes a very important Sunday dinner tradition spent with loved ones. Eric is a product manager for a tech company, where he oversees the development and implementation of new software. Hillary works part-time as the head of operations and marketing for an e-commerce company that specializes in stationery. We enjoy traveling and experiencing new cultures, we have recently taken trips to Scotland and Mexico with future plans to visit Italy and Quebec City, Canada. We share a passion for hockey with both of us playing and having season tickets to a local minor league team.
Our Home & Pets
We currently live in a three-bedroom home at the end of a cul-de-sac in the suburbs. We live in a very family-friendly town and have a big wooded backyard and neighbors with small children. We have a five-year-old black lab mix, Snickers, that is very kid friendly. As a family, we go for walks both around the neighborhood and in the nearby forest preserve. We look forward to playing hockey in the cul-de-sac and gardening in the backyard. Within walking distance are several parks, and we often take Snickers to the dog park.
Our Extended Family
Family is very important to us. We both have siblings whom we try to spend the holidays with, if not our parents as well. In fact, our families get along so well that we have had holidays with both sides together. It is a full house but something we enjoy.
Spending time together is important, and we try to eat together every night but definitely on Sunday night, which is sort of an event for us. It is a time to not only eat together but to spend time preparing the food as well.

We come from a mixed faith background but plan on raising our child Catholic. However, we do want to introduce them to Judaism. We celebrate all holidays, from Christmas and Easter to Passover and Thanksgiving. We view holidays as an important time to reflect and spend time with family. A couple of big traditions that we have are decorating the tree after Thanksgiving while listening to Christmas music (Frank Sinatra and Bing Crosby), reflecting on the past year during Passover, and having a BBQ with family and friends for July 4th.
What Led Us To Adoption
When fertility treatments failed, we needed to think about what to do next. After a year or so, we knew it was time to adopt and take the next step. We are ready and excited to love and support a child and feel we have enough love and stability to provide a great home. We are looking for someone to help complete our family and share the love that we have. It would be our honor to care for such a precious gift.
Fun Facts
About Hillary
| | |
| --- | --- |
| Occupation | Vice President of Operations |
| Education | M.S. Technology Management |
| Race | Hispanic |
| Favorite Hobby | Writing, piano, guitar, art, video |
| Favorite Movie | Dead Poets Society, British period movies |
| Favorite Sport | Softball, volleyball, running, hockey, boxing |
| Favorite Holiday | Christmas |
| Favorite TV Show | The Golden Girls |
| Favorite Book | Anything by Maya Angelou |
| Favorite Tradition | Tamales at Christmas, BBQ July 4th, Thanksgiving family dinner |
| Dream Vacation | Italy |
About Eric
| | |
| --- | --- |
| Occupation | Product Manager |
| Education | B.A. |
| Race | Caucasian |
| Favorite Hobby | Reading, watching sports |
| Favorite Movie | Marvel movies |
| Favorite Sport | Hockey, golf |
| Favorite Holiday | Thanksgiving |
| Favorite TV Show | College football |
| Favorite Book | High Fidelity |
| Favorite Tradition | Sunday dinner, Passover, Thanksgiving dinner with family |
| Dream Vacation | Israel |
Choose a Family for
Your Baby With Confidence

As you browse our list of hopeful adoptive parents, you can feel confident in knowing that all of the adoptive families working with Angel Adoption are prepared to offer your baby a safe, stable, and loving environment along with a wealth of opportunities for a happy and fulfilling life.
Each adoptive parent has been thoroughly evaluated through a home study course conducted by a licensed agency. A completed home study means the family is emotionally, physically, and financially ready to adopt a baby.
The home study process includes assessments of each parent's character, marital stability, financial situation, lifestyle, and medical history. The agency also runs background checks to verify there is no record of criminal activity or child abuse. In addition, a social worker will inspect the family's home to ensure it is a safe environment for a child.
Furthermore, Angel Adoption requires each family to be educated on adopting and parenting. After a baby has been placed with the adoptive family, a social worker will continue to monitor and supervise the family. We go to great lengths to make sure all the families you have to choose from are going to be excellent parents for your baby!
Not sure how to start? See our How to Choose an Adoptive Family resource page.
If you need more help, you're always welcome to contact us any time!
Return to Waiting Families