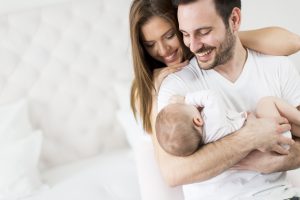 Domestic infant adoption is when a birth mother voluntarily and permanently places an infant with an adoptive family. Methods to do this include through an adoption agency or independently. Adoptive families must consider and evaluate the risk factors involved in domestic infant adoption before committing to the process to ensure the safety and well being of both the infant and adoptive family involved. This article will highlight the common risk factors when adopting a baby in the US and answer how adoptive parents can evaluate these risks when considering an adoption match. 

Lacking Prenatal Care
Prenatal care, or regular doctor checkups and medical care during pregnancy, is able to inform the parents of potential complications, protect the infant, and ultimately help ensure a safe pregnancy. Often, there are situations where the birth mother cannot afford these medical care services or have limited access to prenatal care which can impact the baby. 
Premature Births 
Premature birth can cause complications, as a baby born before it's due time may not have fully developed systems and be especially vulnerable to health risks. The severity of medical and health risks vary with the degree of prematurity. Physical health problems like difficulty breathing or anemia could occur as well as developmental issues that can last a lifetime. 
Prenatal Exposure to Alcohol and Opioids
Alcohol and drugs can be damaging to a developing fetus. The baby could be impacted with lifelong complications such as growth issues, organ problems, and challenges to both physical and mental development. These effects can be permanent and require early support and treatment to limit the impacts to the child's life. 
Mental Health Disorders 
Mental health issues such as anxiety, OCD, phobias, depression, personality disorders, and ADHD may be genetic. It is vital to consider the medical and biological history of the birth parents in order to prepare for the potential resources the adopted infant may need in the future. 
Legal Risks 
It is common that the adopted infant's birth father is unknown or unidentified. This could potentially make it more difficult to create a medical profile for the infant without knowing the birth father. Also, adoption requirements vary in different states, so be sure to familiarize yourself with these to facilitate a smooth adoption process. There are legal details such as consent and expenses. If you want to adopt from a different state, it would be important to learn the policies in your home state and state you're adopting from.   
Evaluating Common Risk Factors When Considering an Adoption Match
When evaluating the common risk factors stated above, it is recommended you work with your adoption agency or adoption attorney. An adoption agency simplifies this process by matching the adoptive family to a birth mother, assigning an attorney, and providing support and guidance the entire time. If you are considering independent adoption, attorneys and support services can be offered through third party providers. It is crucial to consider the risks and resources needed should an adoptive family want to proceed with a domestic infant adoption.